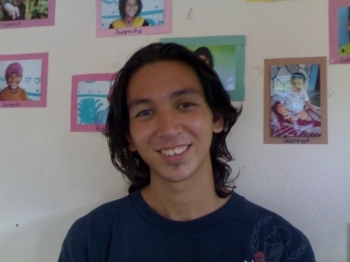 I have enjoyed every moment
Dear future volunteer !
My Time in the Innocent children home was amazing and full with love and child care .I have enjoyed every moment of life in this children home.Kids in the children home are very very happy and joyful with so little they have and fun with nature.Touching them and playing with these kids was just like the real God has come to you and talking to you ,playing with you,sharing many thing with you,loving to you and make you think about our life in the west,When these children in this country are happy with so little they have. It was a great adventure for me i became part of this family,the kids will be in my heart for ever. the avrage day waking up about 7 although the kids sometimes wake up at 6 or when ever sun comes up.They do homework and play until our Nepali friend ,Rajiv,comes and tutor them they learn mathematics,Nepali language ,and English alphabet .Afterall this at about 8.30 or 9 Am we eat Dal Bhat ,rice and lentils,sometimes with tasty locally grown fresh vegetable.At 9.45 I walk the kids to school,when I return from school it is time to clean the big mess.sweeping,washing dishes and re organazing the kithen.When this is done I have 4 hours free to relax or explore Pokhara.Sometimes I go to the busy part of the city Near post office there I do shopping and eat for change.Sometimes I go to swimming in the lake ,occasionally i go to cyber to check my email.at 3 O,clock the kids finish their school so I go to pick them up then it is play time till dinner at that time i am a peacekeeper and sometimes I am a monaster after kids finish their dinner they need to brush their teeth I just remind them ,befor the beds they need to go for pee. If you are thinking about bringing gifts for the kids,toys wount last a week.Better gift is tasty fresh local vegetables,sometimes meat,fruits,snacks to bring to school clothes like paints.My friend Weihan and I bought hens for daily eggs. This orphanage and kids are complete delight.I will be back soon to volunteer again in this children home by the time i come they will be grown up.
Max Wang
Email:kansaimax@live.com
USA