Trekking in Annapurna region is regarded as a paradise for trekkers. Annapurna Trekking offers beautiful views of the mountains while you are surrounded by the wonders of nature. Wildlife lovers will be interested to know 440 species of birds and animals can be found in Annapurna region. You may see a leopard, blue sheep, kokla, or a blood pheasant. The government of Nepal has declared Annapurna region as a conservation area.
Until now, few projects have been launched in Annapurna Region to conserve the native varieties of orchids and rhododendrons and other unique species of flora and fauna. Apart from these natural bounties, you can also see the amazing life styles and culture of the indigenous people, who have resided in these steep hillsides for centuries.
Annapurna Base Camp is one of the most famous treks in the Annapurna region: the scenery is spectacular; the natural beauty is vast, changing from lush jungle to rugged terrain; is a good introduction to higher altitudes without being too demanding; you will see and experience the unique life of the mountain people and their culture.
Annapurna Base Camp trek begins from Dhampus, a 45 minute scenic drive from Pokhara, where you will get your first great views of Annapurna South and Machhapuchhare.
On the Annapurna Base Camp trail you will get awesome views of the snow capped peaks of Dhaulagiri, 8167m, Nilgiri, 7041m, Machhapuchhare (Fishtail), 6998m, Annapurna I, 8091m, Annapurna II, 7939m, Annapurna III, 7555m, Annapurna IV, 7525m, Annapurna South, 7219m, Hiunchuli, 6441m, Lamjung Himal, 6986m, Tukuche Peak, 6920m and many more.
For the first few days, the Annapurna Base Camp trail winds through the villages, terraced fields and lush forests. Each day the vegetation thins out, plant life becomes sparser; the terrain becomes more rugged and finally snow covered. For the last five days before reaching Annapurna Base Camp you will no longer pass through villages of rosy cheeked children and weathered faced adults. The trail to Annapurna Base Camp, 4130m, follows the valley in between the huge rock walls of Himchuli and Machhapuchhre, eventually emerging into a natural amphitheater, where you are surrounded by the majestic mountains Machhapuchhare, Annapurna South, Himchuli, Gungapurna and Annapurna I towering almost vertically above you.
Nature lovers will enjoy the great variety of wild life such as musk deer, leopards, jackals, mountain thar, and birds such as pheasants, multi-coloured Impeyan, and kokla in the area, as well as the diversity of flora and fauna. You will also get to experience Nepal's rich culture among the mountain tribes, Gurung, Magars and Thakalis.
Annapurna Foothills Treks and Expeditions has been organizing treks in the Annapurna region for the last ten years. Experienced and efficient, the team takes great pride in the satisfaction on the faces of their clients when they depart back to their home countries.
Trip Cost: 925 US
10 Percent will go to to The Love Company Orphanage!
Trip Cost Includes
Transportation from Airport – Hotel – Airport: Car, Van, Hi-ace or Coaster
All ground transfers Kathamndu – Pokhara – Kathmandu: Tourist Bus
Welcome dinner with Live Nepalese Cultural Program.
English speaking experienced Sherpa, Govt. Trained/License Holder guide
Porters: One porter for 2 persons basis, from Pokhara – whole Trek (Load Limit 30 KG per porter)
Local Transportation Pokhara – Phedi : Car, Van, Hi-ace and Tourist bus for drop
Local Transportation Nayapul – Pokhara: Car, Van, Hi-ace and Tourist bus for pick up
Full board basis during trek: Breakfast, Lunch, Dinner, Tea, Coffee and Room
Annapurna Conservation Fee, TIMS permits & any required permits or Official Documentation
One Sherpa guide-assistant (if group size is more than 4)
Personal insurance for Nepalese staff.
The Best Time to Visit the Annapurna Base Camp Trek
The best seasons for trekking in the Annapurna region are spring (February to late April) and autumn (late September to late November). Winter is also possible, especially for Ghorepani, Annapurna Base Camp, and Kali Gandki Treks. However, the Annapurna circuit is likely to be closed as the higher passes on Dhaulagiri may have too much snow at this time. During winter there are very few tourists. Some people prefer this season, as they enjoy the beauty of the snow, and the environment of the remote areas without the influx of foreigners.
Cultural Aspects of the Annapurna Base Camp Trek
The most prominent ethnic groups in the Annapurna region are the Gurungs, Thakali, and Manangba. The Gurungs are the most widely dispersed, being found from the hills of Gorkha district to as far West as Palpa. The Thakalis come from the upper Kali Gandaki Valley around Jomsom, where their traditional farming has been supplemented by trade, in particular the hotel and restaurant business.
Trekking Facilities in Annapurna Base Camp Trek
Most of the trekking routes in the Annapurna region are well serviced by tea houses for most of their length. This is particularly true for the most popular treks:
Pokhara Ghore Pani and Ghandruk
Annapurna Circuit
Annapurna Sanchtuary
Ghachok Korchon Unspoilt Trek.
Panchase Short Trek 4 days to and back to Pokhara
The treks in less developed areas however, particularly the Dhaulagiri circuit and the treks starting from Lamjung, definitely require trekkers to be self sufficient in food and shelter.
Difficulty Rating of Annapurna Base Camp Trek
Any avid walker who is able to hike approximately 5-6 hours a day carrying a lightweight backpack will be fit enough to do this trek. We recommend you bring walking poles, as you will find them helpful especially in the long descents when your legs may feel shaky, and the stone steps are uneven. The altitude is only 4130m, so there is no altitude related risk.
Safe Drinking Water on Annapurna Base Camp Trek
We suggest that you drink boiled water or bring chlorine tablets to purify the normal water available in the guest houses along the way. There is a small fee charged for the boiled water. Several guesthouses have Euro-guard filters. Although mineral water is available in most places, there is no provision to dispose of the plastic bottles, so we encourage the guests to do what they can to protect the environment.
Re-charging Batteries of Electronic Items on the Trek
You can recharge your digital camera, iPod, batteries etc. with electricity or solar power sources. You may need to buy an adapter in Kathmandu before the trip since the plugs in Nepal might be different. The lodges charge a small fee per hour for recharging facilities.
Nepal uses 220-240 volts to power your appliances. The sockets fit both round and flat plugs.
Extra Advice for Annapurna Base Camp Trek
You will see many sweet village children, and you may want to give them something. Remember, many trekkers have felt the same. It is better not to distribute balloons, candy, money or even pens to village children as it encourages them to beg. Many children now ask for Mithai (candy) Paisa (Money) and Boom boom (balloon).
During the trekking, keep your valuable goods safe. Lock your door when you leave your guesthouse room. You are also advised not to leave your laundry hanging outside at night.
Garbage Disposal
Don't throw anything into the fire in any house, Buddhist or Hindu. In most cultures the household gods live in fire.
Spending Money per Day
Although it depends on your spending habits, you should allocate US$ 7 – 10 per meal in Kathamndu. On the trek, US$9 – 12 a day should be enough to buy chocolates, Coca Cola and a beer.
Travel Insurance for Annapurna Base Camp Trek
It is strongly recommended to be sufficiently protected when you go into remote areas. You need specialized travel insurance that covers emergency evacuation, injury, lost baggage, liability and medical treatment. Make sure the insurance covers all the activities that you will be undertaking during your stay in Nepal. Annapurna Foothills Treks and Expedition Pvt. Ltd. can organize the appropriate medical response based on your policy.
Washing and Toilet facilities for Annapurna Base Camp Trek
Most lodges offer hot showers, though sometimes a hot shower means a bucket of hot water. You can ask your trekking guide about the availability. For ecological reasons please try and limit your use of hot water unless the water is solar-heated. Please note that at higher altitude and in colder seasons there is very little chance to have enough hot water for all the trekkers. If the water is frozen then ask your guide to get warm bowl of water. Every lodge will have some kind of hand washing facility but it is good idea to carry a bar of soap with you.
Toilets are usually Asian squat style and vary in how clean they are. Normally toilets are outside the lodge but now some lodges have attached or indoor toilets. The rubbish bin in the toilet is kept for your used toilet paper.
Tea Houses
On the popular trekking routes villagers have built tea house lodges with plenty of character and good food. The simple rooms usually have two narrow beds. When you stay in the tea houses you will have close contact with the Nepalese people and are directly contributing to the local economy.
How Can I Plan and Confirm My Trip?
Annapurna Foothills Treks and Expedition is a government licensed trekking and touring company in Nepal. On the following terms and conditions, we accept your bookings.
In order to confirm your bookings we require a non-refundable deposit US$ of 15% down payment in advance is mandatory to book the flight tickets and hotel booking and permit process too. Bookings must be done 60 days prior to your planned trekking date, to reserve a place. This amount can be sent by bank-to-bank transfer, Western Union, money grams, or credit card (telex transfer or wire transfer). And the rest of the money must be paid to us upon arrival.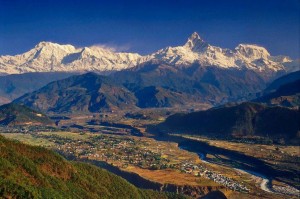 Extra Interest to promote villagers and leave your memory to Nepali locals:
Planting an orange tree would take half a day – approximately three to four hours. First of all, the volunteers with the instructor will have to buy an orange seed in a department store. In the first day, the volunteers would plant a tree, which means dig a hole and plant an orange citrus seed. After this, they can either have a lunch with a local host family or in a local restaurant. When the lunch break finishes, they can move to another host family and plant a tree there. The other days they would help with the care of the orange tree, which means watering, protecting the plant from animals and children and heal the orange tree disease in the case there would be some after a few weeks.
There will be an instructor with the volunteer group, who knows about the scientifically and eco friendly method of planting this kind of citrus trees. Frequently, the expert for orange trees will come, and together with the volunteers, they will go and see the plants.
The volunteers could stay in a village either with a host family or in a homestay with other volunteers. They can also find an accommodation which is convenient for them themselves. There is also a possibility to stay in the nearest city, Pokhara, from where they would travel to the village in the morning and then return in the evening. This is a great opportunity to make a change and a little help in our environment. It is a great experience to spend some time in a Nepalese village and help the family.
For this project, volunteers can stay from one to three weeks. If they want, they can return to Nepal after some time and help with the care of the tree again.
The Love Company