Volunteer testimonial from Shawna Rae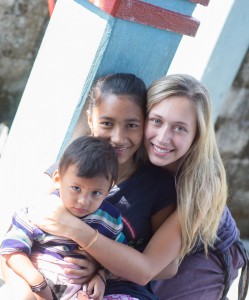 My time here in Pokhara so far (5 weeks) has been absolutely wonderful both at the orphanage and all around it. I have never been to a community that is so trusting and honest; it is the perfect place for first time travellers who are getting out of their comfort zone. It is very safe everywhere, even at night, and everything is close by so it's not hard to get all of the essentials that you need.
I had some communication complications between the organization who sent me here and Krishna, so everything was put together very last minute. Despite the time constraint of only 2-3 days of notice that I was coming, Krishna organized late-night pickup for me from the airport, a hotel in Kathmandu, a bus ride to Pokhara, and a hotel for me to stay in by the time I got there. When you're arriving in a foreign country very late, having everything all set up is more than any traveller could ask for.
Krishna and his wife, Parbati, really treat you like family while you are in their country. They understand that there are many cultural differences that you are not accustomed to and they try their best to accommodate you in any way possible. They will also take you on trips to the market place or to places with beautiful views, as well as help arrange things like treks and trips to farther places in Nepal.
As for the orphanage, the kids are wonderful. Aside from being super cute, they are very responsible for their age and get joy out of very simple things that most first-world children don't. They have the imaginations of the early 90s kids and anyone before them because they do not rely on technology for entertainment. They love to do things like go for picnics in the park, make superhero masks out of paper, and play games that involve competition. They sometimes need help with homework and learning English and it is always fun to help them with both. Luxuries that they enjoy are chicken, popcorn, candy, toy cars for the boys, and makeup for the girls. Those items are easy to buy and cheap from a volunteer's perspective, so it is nice to buy it for them every once in a while (but not too often!).
Being at the orphanage provides a learning experience not only for the children, but also for yourself as a volunteer. You can learn so much from being around the children and see something that you maybe thought was long gone from your own society. It has been such a refreshing experience for me so far and for the remainder of my stay (3 weeks) I only expect to learn more and come home with great memories and new friendships.
If you are concerned about ending up at a "bad" orphanage, I can definitely say that this one checks out. The children are treated very well, their living situation is good, and their bellies are always full. Krishna really wants to help the kids and see them learn whenever possible. He likes them to play games and do activities where they learn as much as possible to help them in their future.
So, all-in-all, I would highly recommend volunteering with this specific orphanage. The time they need volunteers the most is during the winter (November-March). They have been lucky enough to get solar panels and a water filter installed by one of the volunteers, but they are still in need of financial support for things like food and rent. So come help out whenever possible and you'll get an amazing experience out of it!
If anyone has any personal questions they'd like to ask me, feel free to contact me here.