A Life Changing Experience!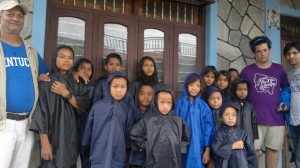 I first contacted Mr. Krishna Pokhrel during the month of May to volunteer in the orphanage during the month of August. He was very pleased to hear from me and really helpful in all the doubts that I had about the country, the program and the children.
A few days before leaving home, I had to change my flight date due to overbooking, so I told Krishna as a friend of his had to pick me up at the airport in Kathmandu. At first I was worried about arriving to Kathmandu and having no one to pick me up because of the flight changes. I realized that I had nothing to worry about when Krishna's friend was waiting for me outside the airport. As Krishna told me, I would spend one night in Kathmandu then take a bus to Pokhara the following morning.
When I arrived to Pokhara, Krishna was waiting for me in the bus station, he brought me to the hotel where I would be staying for the duration of the program and then to his house, where I was welcomed as a new family member by him and his wife. He explained to me everything about the program that I didn't know; we talked about the children, about the city of Pokhara and much more. He told me about the difficulties they had to maintain the orphanage. They are in real need of help, not only volunteers, but also financial help.
The main problem is that a big part of the volunteers that help in the orphanage come from bigger organizations, which means that the program fee that they pay doesn't go directly to the children. So the best way to do it is to contact directly with Krishna or with The Love Company. I was told that with the program fee that I paid, I was not only covering my needs during the stay (Accommodation, food etc…) but it also covered the nutrition of the children for a whole month and health care too (purchasing medicine). When Krishna talks about the children you can realize how much he loves those kids and that he really cares about them.
The first day that I went to the orphanage I was surprised by the way that the children received me, they all came to me and started to give me hugs and they all had their biggest smile on their face. This made me realize how valuable my presence was for the children. They have tons of love for the volunteers and anyone that comes into the orphanage.
The afternoons with the children where great and really fun! First they have to do their homework. Some children have difficulties with their homework and they are really grateful if you give them a little help with it, it is really enriching to see them learn and progress. After their homework is done it is super fun to play with the children, boys love play-fighting with volunteers and the girls love dancing and singing.  Here children are so different from what I am used to back home. Every simple game or joke you make brings tons of joy to them; they make games out of anything as they have lots of imagination.
Helping those children not only with my presence but with all their daily needs makes it a life changing experience. Volunteering for The Love Company really makes a difference on those children, but financial help can make it too!
Santiago Mosteiro, SPAIN