Volunteering Abroad With The Love Company Orphanage!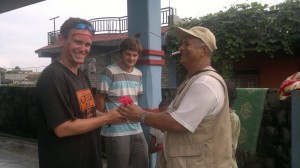 Amazing Volunteering experience Abroad at The Love Company orphanage! My time at The orphanage was rewarding one. It allowed me to integrate into the culture rather than to be a spectator, to part of community. I was not a tourist there. Children were great! Age of 4-11 there are absolute bundles of joy and energy.
My day to day routine consisted getting the children ready for school, walking them to school then I had free time to explore beautiful Pokhara. When I bring children from school to Orphanage I helped children with their Home Work and then sport time, playing with them which of course they enjoyed the most.
Thank you to Krishna, Santos, house mothers  Janjita, Apsara for their kindness and hospitality. This was a great experience. I would certainly recommend people to join .
Ryan  from Canada
If you like to email me to know more information please!
ryan_mcnaughton@hotmail.com