Welcome to The Love Company NEPAL!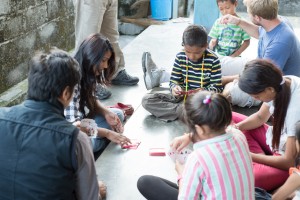 The Love Company matches volunteers  in our orphanage in Pokhara, Nepal, as well as other programs, such as health post work, community school work, farm work, woman equality work, teaching at monastery in Tibetain refuge camp. "TLC" facilitates services  in Pokhara and the surrounding villages, and in the Kaski, Tanahu, Baglung, Kathmandu and Syangja districts.
The Love Company offers a safe and friendly environment to stay and work in villages and to get to know Nepal. Our volunteers are always happy with all of our programs and leave more educated and with a new perspective of Nepali culture.
Why Choose The Love Company?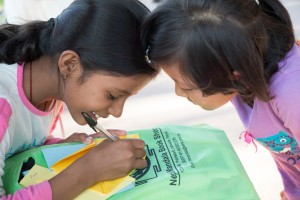 We think that our volunteer programs are unique. We believe that we provide a premier service that is transparent, cost effective, personal, and flexible.We do not receive any government  funding or any international funds. Donations are needed to continue the up keep of the orphanage and the daily needs of the children.We need help with funding the children's schooling, clothes, school uniforms medical care, and nutritious food.
Founding The Love Company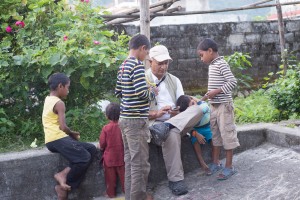 Whilst still at school, Krishna Pokhrel's American volunteer teacher told him that in the future, he could see Krishna becoming a volunteer himself. Krishna followed that advice and became a volunteer teacher in a high school for two years.
After his two years volunteering and teaching in high school he became a trekking guide. During his treks he visited very remote villages . He met poor families who have no clean drinking water, where many children get sick because of very poor personal hygiene. Many of these children had no opportunity to go to school. Keeping his experiences in mind, Krishna set up The Love Company Orphanage. Now he is trying to build on this success by providing even more children with food, shelter, medical care and schooling. He is also looking someone or charity who could help buy land and build an orphanage for many orphan children and do not need to pay the house rent once have his own orphanage building where there is a garden could grow own vegetable, keep some chicken for eggs for the children nutrition.
The objectives of The Love Company and the projects we run are as follows:
To promote community development without destroying traditional ways of life.
To educate the children for their future. The English language, hygiene, and environmental management are a few of the important topics.
 To bring western methodology and experience on variety of education and health matters to the village communities.
To provide education and training to community youth to encourage and create opportunities for self employment.
To focus on improving life for the poorest and most marginalized members of Nepali society, especially the Dalits.
To provide lessons of Nepali language and cultural information to the people who come to Nepal to study, conduct research, and do voluntary work.
To introduce volunteers to richness of Nepali culture and ensure a safe and memorable stay in a supportive environment.
To enable volunteers to study the society and culture of Nepal.
 To mobilize volunteers in the sectors of education, health, environment, human rights, agriculture etc.
To promote volunteerism.
To promote the Nepali culture worldwide.
Legal: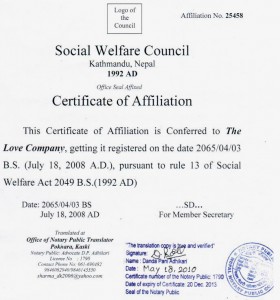 Additional information: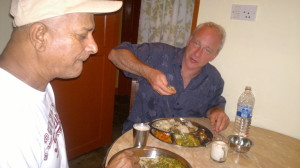 We started our orphanage in 2009. We are working to improve the life of the underprivileged by running an orphanage called The Love Company Orphanage (The Love Company Children Home) with 16 children from 3 to 13 years old. The  children are our first priority.  We give them love, affection, nutritious food, government education and medical care.. To do this we need volunteers from all over the world.
The volunteers are precious people for our orphanage.
They are involved in a wide variety of activities: teaching English, drawing, painting, helping with our children's home work, singing, dancing, mind games, free playing, sports, knitting, cleaning,  planting, gardening and many more.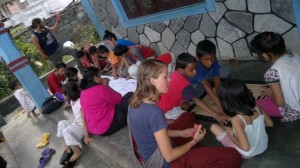 The Love Company is difficult to  sustain.  In order to provide for these children, we need your help. If you are unable to make it out to Nepal, you can also donate to our organization or tell to your family and friends to volunteer.
Master Krishna's Story (Krishna Pokhrel) or 'Master Krishna' as he is affectionately known to the locals of the Pokhara valley, has dedicated his life to ensuring children are given the opportunity to learn. As director of the The Love Company Orphanage,  Master Krishna devotes his time to expanding the orphanage to accommodate his rapidly growing waiting list of disadvantaged children.
However Master Krishna is no stranger to beating the odds. As a young teacher and guide from the village of Ghachok, a community only accessible by a four hour walk to this day, he instilled hope and learning to these remote children. Master Krishna tells of two schools which he initiated from very humble beginnings.
In 1979, he devoted two years as an unpaid teacher to educate the children of Ghachok. He relates the humble beginnings of the school in his own words: "The children knew where the school was to convene each morning by the presence of the log and the chalk board. These were the only foundations of our school. When it rained, the children would scatter to numerous houses in the village for cover. Once the rain ceased, I would ring a bell which signaled to the village children that the school day was again in session!"
The residents of the village pooled their donations in order that a thatched roof be built, enabling the school day to be uninterrupted by rain. From simple beginnings, this determination by Master Krishna, the children and the entire village  ensured that the thatched roof expand to a secondary school building, now sustained by the Nepal government. However, the village did not have a school for primary age children.
"As the young children of Ghachok had no access to schooling, I arranged for two small rooms to be built" he relates, the clear fondness for his community evident. The year was 1983. These two rooms were basic by any standard, merely a tin roof and concrete walls. Enough to keep the harsh elements of winter snow and scorching summer sun at bay. A local guide volunteered to be the sole teacher and worked with no salary to establish the school.
Through the initiative of Master Krishna and the compassion of both he and the guide, Ghachok is proud to have a government primary school and the two rooms have now expanded to encompass all children in the village of primary school age. Master Krishna now extends this consideration of learning to orphans, with the same dedication and kindness which undoubtedly leads to success.