Testimonial- Everyone was friendly and always willing to help.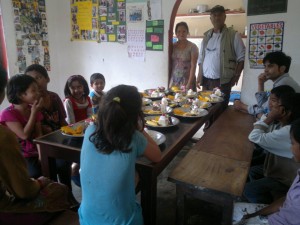 The most important part of my Nepal trip was volunteering at the orphanage, as this was my soul goal for visiting the country, but having arrived i found that there were other great aspects such as the abundance of beautiful scenery and the diverse activities available for volunteers and tourists. In addition of the beauty of the country the kindness of the people was greatly humbling, everyone was friendly and always willing to help.
Volunteering:
My intentions for volunteering was to provide a difference in the lives of those that may be be more unfortunate then me. Having chose the love company, it was evident from the start that there was a warm environment provided to both the volunteers and the orphans. The two house mothers in charge of the orphans were great, they provided a very happy environment for the children. I was happy to see that the children were living relatively comfortably, obviously this only being the case due to donations. Although financial aid is crucial in the running of the orphanage (without so i do not think the great environment provided by the love company could be provided), i believe educational aid is of greater importance, this i could not provide for the children. Although the children had an eagerness to learn, having no teaching experience it was difficult to provide them with my intended ambitions.
All in all it was a good experience, there is a fair amount of free time where you can go out and see Pokhara, personally i would recommend that if you visit to go with a friend , i was fortunate enough to have another volunteer there with me.
Thanks you for everything,
Abdul